Digital Transformation of Healthcare Business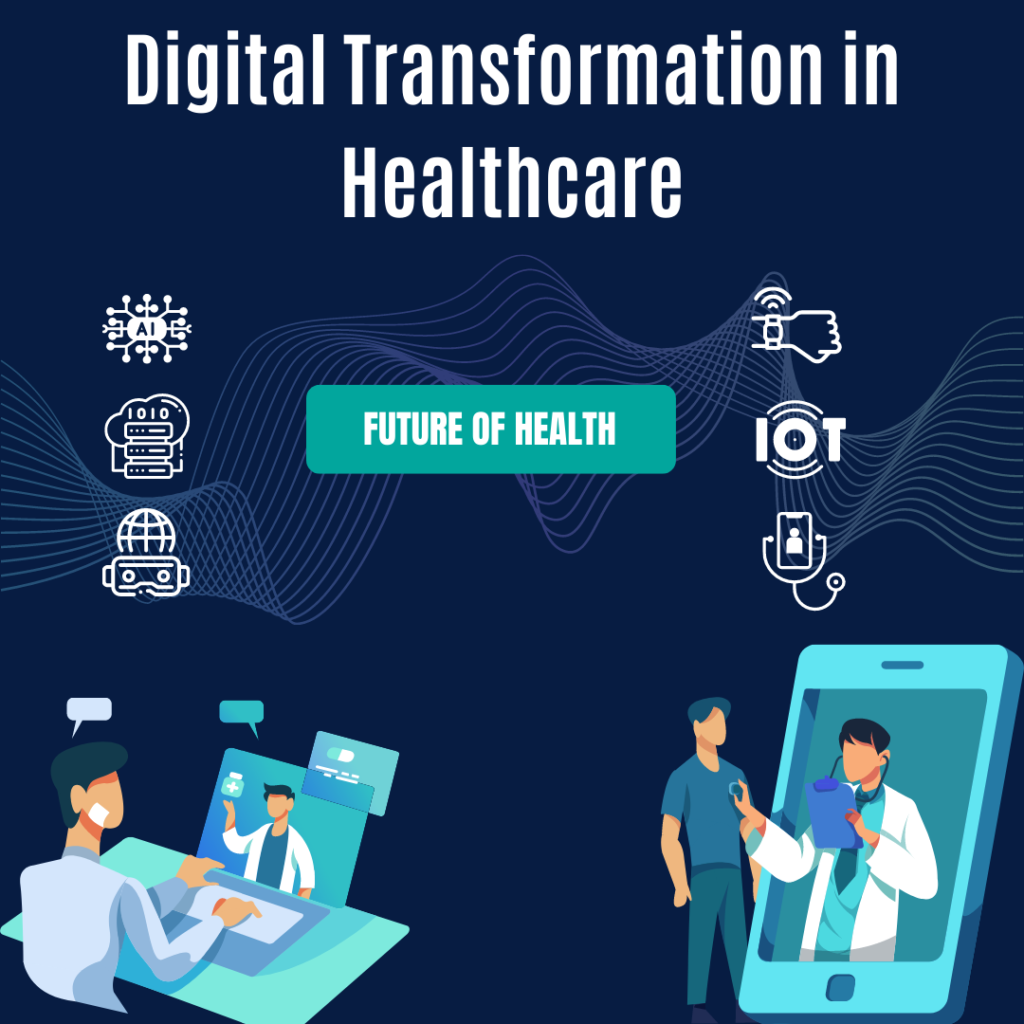 As it stands out during the pandemic process, health technologies have been developing rapidly over the years. Advancements in technology in the medical and healthcare fields enable patients to be treated more effectively and diagnosed accurately. It is incredible and so comfortable that the difference technology makes in healthcare. Could we compare this technology with former times? Digital transformation in healthcare is inescapable through the rapidly-developing digital services and also makes it impossible to do-nothingism and compare with old. Could we imagine the point healthcare technology will reach in the future? It seems like digital transformation in healthcare is a teaser of future healthcare technology.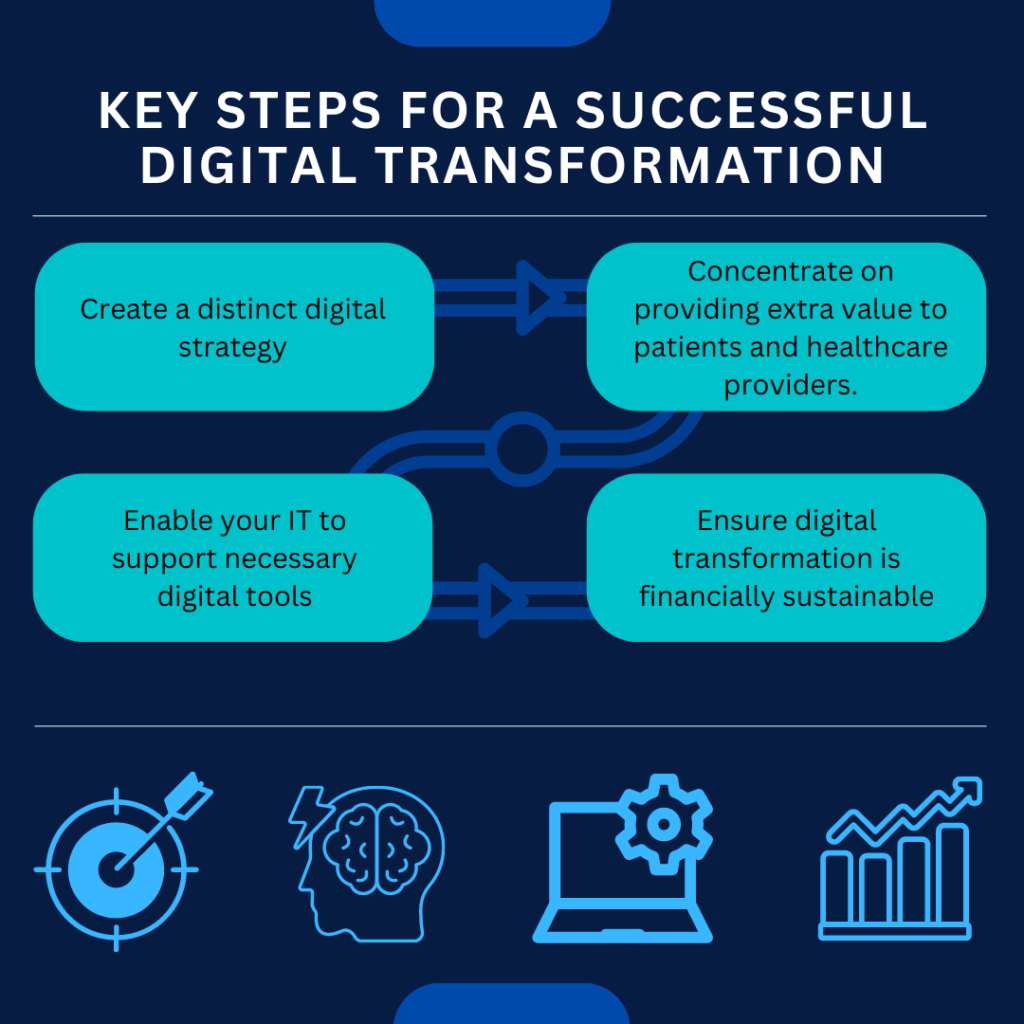 At this point, digital transformation is on its way to being a groundbreaking technological advance due to its high-impact strategy for healthcare organizations that allow and improve patient experience and demand in an accelerated manner. Global spending on digital transformation has exceeded $1.3 trillion and is expanding at a 10.4% annual rate. In the same breath, a Deloitte survey found that 92% of healthcare professionals and institutions enhanced their productivity as a consequence of digital transformation. In this article, we mentioned the current services to transform healthcare digitally and we believe that it will shed light on the future of the healthcare industry.
Digital transformation is one of the latest trends in healthcare where people are starting to take advantage of digital assets. In all aspects of the healthcare business – payer transactions, provider transactions, member interactions, etc. – It can be defined as the process of introducing digital technologies, as well as a phenomenon that can reach patients directly. So how does this happen? The usage of artificial intelligence in the healthcare industry is inevitable due to its facilitation, popularity, and capability. AI has already been used in drug development diagnosis, mental health, and analysis of medical data and it is obvious that this is just the beginning of the penetration of artificial intelligence in the healthcare field. Data is the most crucial factor driving the success of artificial intelligence techniques in healthcare. In particular, training data. Machine learning software will never surpass the quality of its training dataset.
Due to social distancing strategies, many clinicians are already using virtual care technologies for routine outpatient sessions. Hospitals are switching to 5G telecommunications, cloud computing, and artificial intelligence (AI) to address both present and future healthcare concerns, specifically the development of digital care delivery models. Herein, the most electrifying technology to mention is Telemedicine. Telemedicine is a burgeoning business that enables people to get medical care via digital technologies. The thing that made telemedicine attractive is that patients may quickly contact their specialists and obtain a diagnosis and medical recommendations.
Wearable technologies have made healthcare services easily accessible everywhere. The integration of wearable technologies and IoT fuels the potential of the healthcare industry. It is also facilitating understanding of its requisiteness and giving room to the Internet of Medical Things. It started as a fitness tracker to measure heart rate and speed, highlighting the potential for healthcare. Moreover, wearable healthcare devices can identify cardiovascular irregularities sooner and avert serious illnesses. At the start of 2021, there were 11.3 billion IoT devices connected. The IoT medical devices market is expected to grow from USD 26.5 billion in 2021 to USD 94.2 billion by 2026.
Virtual reality (VR) is the most exciting and fancy side of digital transformation in any field. Even though it has done minor VR improvements through healthcare recently, it sensationalized the future of it. On the other hand, it is sensible to use VR to provide medical students with "real-life" treatments and a visual grasp of human anatomy.
Sharing healthcare and medical data became the point that should have been figured out as interoperable. Fast Healthcare Interoperability Resources is a standard describing data formats and elements and an application programming interface for exchanging electronic health records. The standard was created by the Health Level Seven International health-care standards organization. FHIR will fuel the future of healthcare interoperability. Epic, Cerner, and other giants in health IT have accepted the FHIR standard. FHIR adoption is also obliged by the 21st Century Cures Act and the ONC, reinforcing it as the future standard for healthcare data exchange. Over and above, SMART on FHIR standards allows the rapid construction of patient applications linked via FHIR APIs. SMART on FHIR permits users' smartphones, wearables, and other personal apps to access data from many EHR systems rather than just one. Users may access their FHIR-connected EHR system data from any location.
So what awaits us in the future? The adoption of new digital technologies is only one aspect of the digital revolution in healthcare. It is about rethinking healthcare for the digital age by leveraging the power of data, AI, cloud-based platforms, and innovative business models to improve health status, reduce healthcare costs, and enhance human patient outcomes for both patients and staff. Besides that, telehealth and remote patient care will become essential components of healthcare, supporting in-person treatment. It has estimated that the market is expected to grow by 25% each year, effectively tripling sales to over $17 billion by 2027. Most of the treatment currently provided in clinics for patients with a chronic illness will be relocated to relatively low-lying places, such as the patient's home. Health clinics, for example, will bring services closer to local communities. Virtual cooperation among healthcare professionals would also aid in the expansion of specialty treatment to isolated areas where specialist staff is scarce. Using real-time video streaming, experienced doctors may give remote instruction and assistance to less senior peers. As an added bonus, technologically enabled remote interactions can help to minimize travel-related emissions, thus promoting ecological responsibility. The whole thing will also maximize the market size of digital healthcare. The digital health market, which is predicted to be valued at USD 224.24 billion in 2022, is expected to expand at a CAGR of 27.7% from 2022 to 2032, eventually reaching USD 2585.98 billion.



Etiketler:digital transformation, Dijital Sağlık, sağlıkta dijital dönüşüm
Geri Bildirim gönder...